All is well -  YOU ARE NOT ALONE - YOU ARE SO LOVED - I ANCHOR MY LIGHT TO GAIA'S GRID
Meet Carol Look Tapping Expert,
Intuitive Energy Healer

Carol Look Tapping Expert and founding EFT Master is one of my favorite coaches and healers that I've been following for over 10 years now who has made a huge difference in my life.  I got the chance to get to know her personally having spent several days together attending a conference for The Tapping Solution together and she knows her stuff like nobody else!

Carol is passionate about helping people release their sabotage behavior so they can get unstuck, take back their power and live a life of their dreams!

If you are tired of playing small, hiding your gifts, and giving your power away… then I know you will enjoy getting results from what Carol offers through her online products and programs, free articles, newsletters, and tapping videos. 

In addition to being a traditional psychotherapist and abundance coach, Carol Look is an author, speaker, coach and the creator of "The Yes Code" – her unique coaching style will help you clear your fears, find your "yes" and make the decisions that are right for you.  I love results I received from reading Carol's book and listening to her interviews and tapping videos.

Before becoming an EFT Master, she was trained as a Clinical Psychotherapist and earned her Doctoral Degree in Clinical Hypnotherapy. She has been a pioneer in the EFT/ energy medicine field for 18 years, and is known for successfully combining her traditional training with energy medicine and her deep intuitive capacity to help lead clients exactly where they want to go.
Carol specializes in helping people to eliminate self-sabotage behavior like procrastination and perfectionism and help them release their resistance and clear their blocks to success.  She admittedly used to be a master procrastinator who sabotaged her success, and of course was afraid to shine.  We've all been there and we've let it stop us from going after what we want - being afraid of failure, and getting in our own way countless times.  But Carol has learned extremely simple techniques to heal the fears and feelings behind these behaviors that hold us back so we can overcome overwhelm and enjoy exceptional results in our lives.  And she can teach you how to use these tools too!
Carol Look Free Tapping Resources 

One of the most popular posts Carol Look has written is her Top 10 Tapping Tips. This compiled list of her favorite tapping tips has had a dramatic influence on her work and the results with her clients. Use any that work for you, but I highly recommend trying them all before you dismiss them, especially the ultra simple ones.

Here's a super helpful and easy to listen to audio of Carol explaining the most Frequently Asked Questions About EFT.   Listen in while Carol asks and answers the most common questions she hears about EFT and make your practice more effective.




Dinner with the Tapping Solution Summit Group in NYC
Carol Look Tapping Products for Abundance, Weight Loss & Procrastination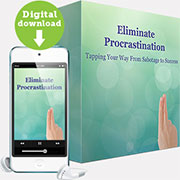 Eliminate Procrastination: Tapping Your Way From Sabotage to Success Digital Download
Clearing Clutter From the Inside Out Digital Download
Clear Your Fear of Success Digital Download
How to Stop Self-Sabotage & Get What You Want Digital Download
Clear Cravings with EFT Audio MP3s - Now you can stop those cravings and reduce emotional overeating by using EFT for the underlying emotions that make you want to overeat.
Afraid to Lose Weight MP3s -You want to reach your goal weight, but you keep sabotaging yourself.  You know the program you're following is healthy and good for you, but you keep falling off… Maybe… you're afraid to lose the weight!  If you find yourself continuing to sabotage yourself on your weight loss journey, consider this probability – you're afraid to lose weight because you won't feel safe without it. Why? Because you want, need or prefer to have the protection of the extra weight on your body. Maybe you fear you will feel exposed if you lose the weight, or maybe you're worried about other people's reactions. Or maybe you fear you will get unwanted attention for your new shape and size.  Use these tapping exercises to release the energetic and emotional reasons you don't feel safe so you can lose the weight once and for all.
Release the Stress, Release the Weight- Does stress make you fat? The answer is yes!  Listen in to this thoughtful discussion about the role of stress in our lives with EFT practitioner and Abundance Coach, Marti Murphy and author, speaker and EFT Master, Carol Look. After learning how stress blocks successful weight loss, you will be led gently through several sequences of Tapping (EFT) to release your fear, stress, and emotional blocks that are causing your body to hold on to the extra weight. Finally, a technique that makes sense and a program that will help you on your way to success with weight loss!
Improve Your Eyesight with EFT eBook with MP3

 BE THE LOVE THAT YOU ARE - CHOOSE LOVE - LET'S PLAY!