All is well -  YOU ARE NOT ALONE - YOU ARE SO LOVED - I ANCHOR MY LIGHT TO GAIA'S GRID
Carol Tuttle Healing Oils
Your healing journey can be made smoother by using essential healing oils in combination with energy healing techniques.

My package arrived like this!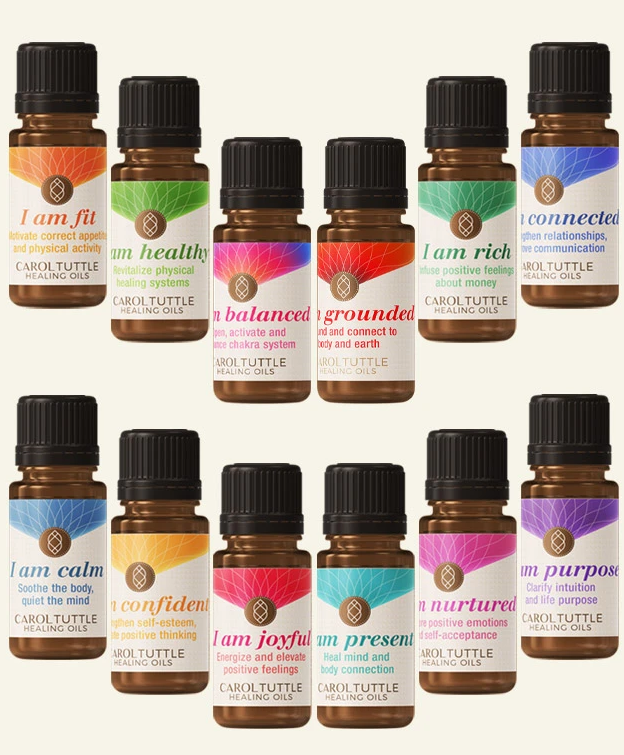 By using Carol Tuttle Healing Oils alongside energy healing techniques, you'll be able to heal deeply in a more comfortable way stimulating your natural healing response to support your natural healing ability.
I have been a fan of essential oils for about 5 years now and have found them very soothing and effective on relieving both physical and emotional issues.  When I heard that Carol Tuttle had come out with a personal line of custom blended essential healing oils that were meant to be used to enhance her online energy healing sessions, I was very intrigued.
Also, I definitely was not surprised to find out that she had identified one of the essential oil blends to match up with each of the 4 Energy Profiling Types.  I'm a Type 4, so I ordered the one named "I am present" to try it out - you can read about which oil matches the other Types here. 
What seems most unique about this is how she pairs her 2-4 week healing plans with a custom healing oil blend to complement the healing as she guides you through daily and weekly practices to help you heal deep wounds and old patterns.  I learned that Carol carefully crafted together custom oil blends that support specific healing goals like anxiety, depression, relationships, weight loss.   Every essential oil has properties that support specific healing outcomes and Carol, a Master Energy Healer, worked with a Master Herbalist and Aromatherapist in creating these blends - sounds like a dynamic combination to me!
These healing plans are powerful and they can also bring up emotional discomfort which, if you want to truly heal, this discomfort needs to be felt, expressed, and released and these healing oils were designed as a resource to support that process and make it smoother. 
If you're interested, she does offer a Free 14-Day Trial at her online Healing Center.


How to Use Carol Tuttle Healing Oils
Ways to experience healing with these oils.

Soak It In: Immerse yourself in a warm bath for a quiet moment relaxing with the aroma of your choice.

Take a Deep Breath:  By smelling the oils, your lungs will expand and breath in the benefits


Keep In Touch: Apply oils to your feet or neck and carry healing support with you wherever you go.


Feel It In the Air:  Add oils to an aromatherapy diffuser and move through your day with added well-being.


Relax Into Healing: Include oils during a massage and experience deep restoration from head to toe.




Physical Support


Sensory Memory

Smell affects your hippocampus (connected to memory) and amygdala (connected to emotions). When you pair your healing practice with oils, just the smell alone can reset your brain's automatic responses.

Holistic Healing:

All four levels of self—spiritual, mental, emotional and physical—are connected holistically. Many healing modalities focus on one level at a time. Using oils along with your healing practice supports healing of all four levels at once.




 BE THE LOVE THAT YOU ARE - CHOOSE LOVE - LET'S PLAY!