All is well -  May all be blessed - I AM THE LIGHT 
Meet Margaret Lynch EFT Tapping Expert

Her transformational work teaches you how to use this CRAZY, but simple, technique to get you connected to your true power source and create a magnet of electricity and attract exactly what you want.

Margaret Lynch EFT Tapping expert is a living example and a success story of her very own work. After she left a successful corporate career she completely transformed her life and redefined her career using Tapping.  
Then, in just 4 years, she used her EFT tapping skills to build her own 7-figure business as a success coach and take it to a multi-million dollar company.
Along the way she found her true passion and became the foremost expert on using tapping for money, inner confidence, life purpose, and became a trainer for other healers, practitioners, & coaches.

Margaret's work is so important... and paradigm shifting and I encourage you to experience it first-hand like I've been doing for years including being able to attend two 3-day live training events.

As women, we are incredibly powerful. More powerful than we can possibly realize. And while some women seem able to effortlessly own and harness their power, many women feel disconnected from the energy that truly makes them who they are. Yes, many of us "succeed" in the world, holding down good jobs, raising families, but quite often it feels as though something is missing.  As though, something is not truly there.  Even though we experience success, it's not on the level that we truly believe we are capable of.
Margaret has created the ultimate energy program as shows you the secret to having a powerful charismatic presence so you can become more Powerful, Passionate and Fabulous and highly paid!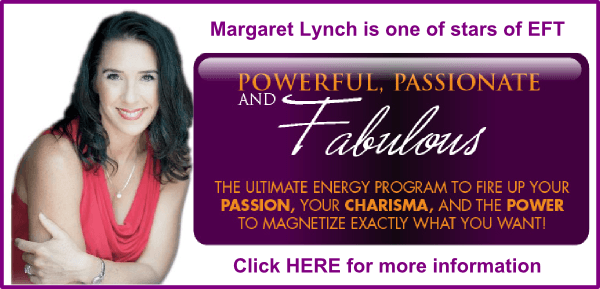 Reserve your seat now for a FREE in-depth training webinar
You can also Grab this Free Gift MP3 download right now  to Transform Your Energy, Charisma and Authenticity on Stage, in Video and in Selling Situations.

You will learn about what stops us from being totally present and REAL and instead makes us stiff, too serious and appear nervous. This is eye-opening information! Then you will experience a CRAZY process to clear that restriction away and step into more vibrant, energized and confident state that will come across in person and on camera as authentic and credible!

Margaret Lynch EFT Tapping Secret Is In Your Chakras

Margaret Lynch and I at a special mastermind event in Houston 2011.
I've known of Margaret's work as an EFT Tapping expert since I heard her interview on the very first Tapping World Summit.  She has an amazing ability to cut right to the core issues with precision x-ray vision and rock your world like no one else.  I can say that with 100% confidence because I got to spend 2 unforgettable days with her at an intense private training event that was the catalyst for a huge turnaround in my business and income success.

And she's only gotten better over the years!
Her work has now evolved to a place where she has incorporated a very unique approach which involves harnessing the power of Tapping with the Chakras, specifically the lower chakras, which we know each harness different levels of consciousness and are a true power source.

She realized that the reason she didn't truly feel alive was because she literally had locked energy inside of her from making a lifetime of subconscious vows which were preventing her from feeling alive.  She, as most of of do, had energy stored in lower chakras that literally blocked the energetic flow and prevented her from tapping into that true power source of Self.

Once she recognized this and began to tap into that power, EVERYTHING CHANGED.
Margaret is on a mission to share the same transformations that led her to a life of passion, impact, wealth and fulfillment with others. She has already helped thousands of people shift into their innermost potential and skyrocket their enthusiasm, passion, and joy in life.
What if this was how you felt about your life and place in this world?
"I feel like I am being EXACTLY who I am supposed to be."
"I feel the world flowing through me."
"I feel totally alive, totally passionate, and totally in love with my life."
What she offers is a step by step program with an extremely unique experience of all of the chakras that will challenge, transform, and blow you away!  And if this sounds like nothing you've ever heard before...GOOD... that's specifically why you should click here to register for her free webinar training.

Looking for information about Margaret's Tapping Into Wealth Coaching Program?

Grab Margaret's Special Free Gift for Having Rockstar Charisma

More Abundance and Prosperity Resources
Margaret Lynch EFT Tapping For "Something Big Is About To Happen" (VIDEO)
ACTIVATE THE RINGS OF HARMONY AROUND ALL READERS.  ALL OF LIFE COMES TO ME WITH EASE JOY AND GLORY.
I'M SORRY, PLEASE FORGIVE ME, THANK YOU,  I LOVE YOU