Learn Access Bars from Dr. Dain Heer
ONLINE REPLAY FROM HOUSTON - OCTOBER 2022

Join Access Co-Creator, Dr. Dain Heer, for the replay of this one-of-a-kind Global Access Bars Class.
One to two times a year, Access Consciousness offers the Global Access Bars Class with one of our Advanced Facilitators. This offers the possibility to attend the Access Bars class online from wherever you are in the world, as long as you have two or more people together locally to attend the class. Follow the link for more details.
When Access began in 1990 "The Bars" was all that was offered. To this day it remains the foundation and first building block of all of Access Consciousness. It's helped tens of thousands of people change many aspects of their life including their health, weight, fatigue, depression, anxiety, stress, sleep, money, sex, relationships and so much more.
The Bars consist of 32 points on your head, that when gently touched over the course of an hour session, effortlessly and easily release the electromagnetic charge of what holds the thoughts, feelings and emotions in your body. During this class, you will gift and receive bars twice during this day and leave this class a "bars practitioner; able to do sessions on others.
3 Reasons Why This Class Is So Special:
Dain Heer's last Global Bars Class had the greatest attendance of any Access class in history to date.
Thousands of people ran bars simultaneously all over the planet during this live class!
You can watch by online stream or digital download from ANYWHERE in the world!
Whether you've done a bars class before or not, this is a unique day and class that will reverberate throughout Access and around the globe.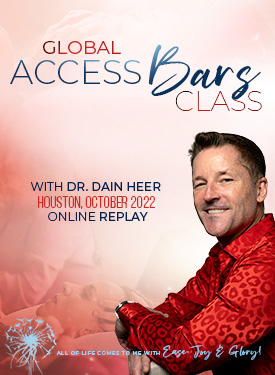 Video on Demand: You will have immediate access to the replay from your Access account dashboard 
Digital Downloads: Upon ordering the English version, a delivery email with download instructions will be sent to you so that you may download your files or access your downloads from your account dashboard
What is required to facilitate Access Bars®?
STEP 1) THREE full day Access Bars classes with 3 different certified Access Bars facilitators (BF) or Access Certified facilitators (CF).

ONE class can be an ONLINE Global Access Bars class, and TWO classes must be IN PERSON.

The first class is full price and the two following you receive for repeat price 50%!
STEP 2) Apply for CERTIFICATION to be an Access Bars® Facilitator (BF) for an annual fee.  Receive a welcome packet with your personal certification and BF materials.